The Micromobility Identity Crisis 🛴
Bezos and Elon: A Race to Space. CZ's plan to rollback Bitcoin backfires.
Boulevard of Broken Scooters
As a consumer, the abundance of scooters in Santa Monica has been a godsend. Walking more than a mile is now optional, and I use classic ridesharing far less than just a few years ago. One of the best things about this trend is the fact that if you come across a broken scooter, there will be another in its place. This creates a fairly cavalier attitude among riders — leave it in the street, why not! Each defunct scooter has a thousand more to take it's place.
It turns out, that is creating a few problems for fleet owners:
VanderZanden told tech website the Verge in March that the scooters would need to stay active for six months — around 180 days — for the company to just break even on the purchase price, once charging, repair and permit costs were factored in.

Nearly 7,000 scooters appeared to be active in Los Angeles County in January, having logged a ride in the previous two weeks. By April, more than 5,500 of those same scooters appeared to be removed from active duty, with no rides logged for the prior two weeks.

And the average life of those inactive scooters, based on the time elapsed between their first logged ride and their last before going dark, was 126 days.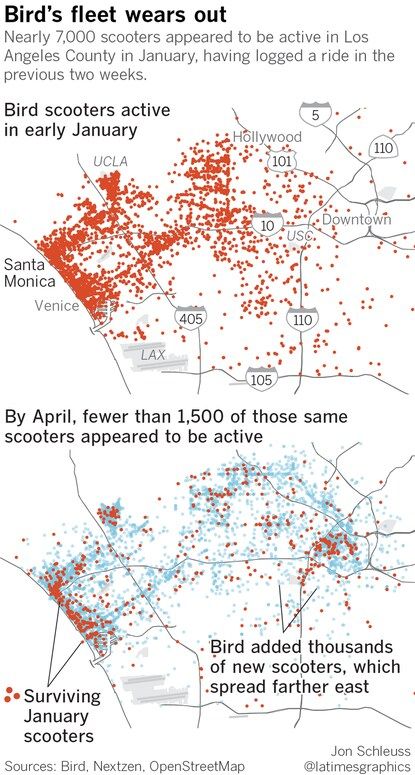 As background, Bird uses several models of scooter in it's fleet:
Each of these models are active today, and experienced riders are able to distinguish performance differences. The original model has a bulky handle with a prominent QR code, no electronic screen, and a handbrake. The Segway models tend to come equipped with an electric brake mechanism (rather than a handbrake) that is an absolute hazard down hills.
The Zero is a bit beefier, and comes with an extended platform to stand one. The top speed is also higher than the other models (including Uber and Lime). I clocked nearly 18 MPH today on a flat road before the governor kicked in. The Bird One is currently accepting pre-orders for $1300 — nearly $800 higher than the retail price point for the Xiaomi.
All of the focus on hardware comes from a desire to extend the magic number of active scooter lifespan. Each day spent in the repair shop or otherwise incapacitated is a potential loss of revenue for the company. Improving the hardware is a good idea: changing consumer behavior is hard, so you need to make sure the product is able to perform well.
However, I do believe there is room for improvement on this front. The lack of aligned incentives between the companies and the users result in a much higher rate of damages than necessary. Outside of acts of vandalism like those happening in Austin, the majority of scooter damages appear to occur due to carelessness. It's become a running joke to find a scooter left in the street; people will dump them on a corner without hesitation once the trip is complete. The app prompts you to take a photo after each ride, and this data collection is presumably being used to train an algorithm to detect damages or whether the parking is appropriate. It's entirely imaginable to imagine a future release that tells you, "Hey, I see that you parked like an inconsiderate jerk. Would you mind moving it out of the center of the sidewalk?"
No one feels personal responsibility for the machines because the interaction ends when the ride does. Introducing a way to track scooters for each user would create a sense of community between the riders and the fleet operators. The business model is inherently community focused — the goal of the product should be emphasizing this characteristic, rather than treating each machine as fungible.
Facing stiff competition from juggernauts like Uber and Lyft means that smaller scooter companies will need to find differentiators to capture market share. Burning cash has proven a viable strategy for software, but creating a sustainable hardware company means forging a bond between users and the device.
📚 Reading
A paper from the Deep Mind team outlining the progress in Reinforcement Learning and where the field is going. Highly recommend reading the outstanding questions. Link.
A report from Kellogg business school on technology entrepreneurs. The average age of a successful startup founder is 45. Link.
How does social media affect adolescent development and life satisfaction? Apparently not much. Link.
Google releases a graphic explaining federated learning, the most recent ML trend focused on privacy. Link.
Amazon announced the deprecation of the S3 object path, and then quickly realized the impact of that decision and rolled it back. Namely: millions of links scattered across the web pointing to S3 buckets would become obsolete. A good example of a company quickly reacting to community feedback. Link.
A New York Times op-ed from Chris Hughes, co-founder of Facebook … calling to break up Facebook. A lot to unpack here — it doesn't seem like using old regulatory tactics will work on the new breed of technology companies and their societal impact. Link.
National Geographic's story of how chicken became a staple food for American homes — starting with a crowdsource competition. Link.
---
🐦 Tweetstorm of the Week
Binance was hacked last week and lost 7,000 BTC. Their CEO, CZ, is a prominent Twitter celebrity and made an ill-advised remark suggesting they could coordinate miner activity to rollback the chain. This thread explains why that would be a colossally bad move.
---
📺 Videos
Step by Step, Ferociously
Jeff Bezos lays out Blue Origin's mission as the developer of infrastructure to enable human space exploration. Link.
Last week we discussed Jeff Bezo's recent attempts to poach SpaceX engineers. Including 330+ open positions on their careers page 👀
Deep Learning with Andrew Ng
A great compilation of Andrew Ng's interviews with AI leaders from Facebook, Apple, Tesla and more. Link.
---
Not a subscriber yet? Sign up here.